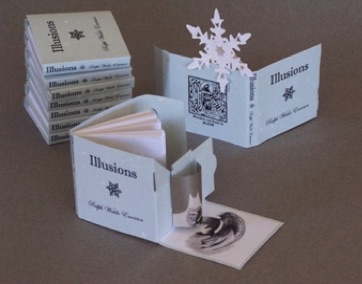 "The child walks amid heaps of illusions, which he does not like to have disturbed. The boy, how sweet to him is his fancy! how dear the story of barons and battles! What a hero he is, whilst he feeds on his heroes! What a debt is his to imaginative books!"
-EMERSON
* * *
BOUND IN CARD STOCK IN "WALTZING FEATHER BLUE"
* * *
WHITE MULBERRY ENDPAPERS
* * *
SNOWFLAKE BOOKMARK
* * *
LIMITED EDITION
(150 COPIES)
* * *
SIGNED AND NUMBERED
* * *
2 IN x 2 IN
* * *
54 PAGES
* * *
A mirror reflection of the author echoes the sentiment of his essay.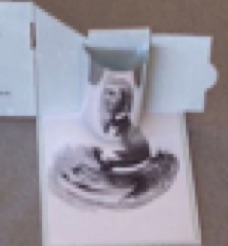 50% of the sale price of this item
benefits Room to Read to create libraries for children in underdeveloped countries.
"There are as many pillows of illusion as flakes in a snow-storm. We wake from one dream into another dream."
-EMERSON
ILLUSIONS
RALPH WALDO EMERSON