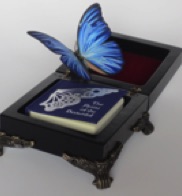 A miniature book illustrated on the outside, this new creation features a box design inspired by the author's description of his magical gift--a lifelike mechanical butterfly.
* * *
BOUND IN BLUE CLOTH WITH MARBLED END-PAPERS BY ANN MUIR
* * *
FELT-LINED WOOD BOX WITH PEARL INLAY
* * *
POP-UP, HAND-PAINTED IRIDESCENT BUTTERFLY
* * *
LIMITED EDITION
(8 COPIES)
* * *
"He produced, as he spoke, what seemed a jewel box. It was carved richly out of ebony by his own hand, and inlaid with a fanciful tracery of pearl, representing a boy in pursuit of a butterfly, which, elsewhere, had become a winged spirit, and was flying heavenward; while the boy, or youth, had found such efficacy in his strong desire that he ascended from earth to cloud, and from cloud to celestial atmosphere, to win the beautiful."
-Hawthorne
25% of the sale price benefits Debra of America , which provides research support and direct services for children with Epidermolysis Bullosa.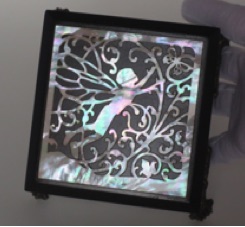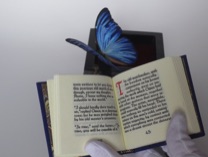 THE ARTIST OF THE BEAUTIFUL
NATHANIEL HAWTHORNE